Posted by EdgePro on Jul 11th 2018
LOCALLY DESIGNED AND MADE WITH DOMESTICALLY SOURCED DIAMONDS, EDGE PRO MATRIX MONOCRYSTALLINE DIAMOND SHARPENING STONES FOR KNIVES GIVE YOU THE HIGHEST QUALITY EDGE ON VIRTUALLY ANY KNIFE. LEARN MORE ABOUT THESE EDGE PRO SHARPENING STONES FOR OUR SHARPENER SYSTEMS BELOW.

HOW OUR RESIN BOND DIAMOND MATRIX STONES ARE MADE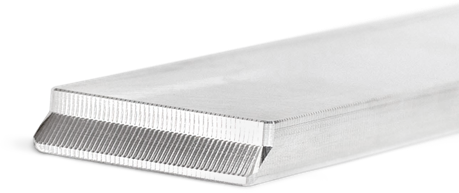 Our diamond knife sharpeners start with precision CNC machined aluminum blanks that are machined super flat to minimize bow & twist.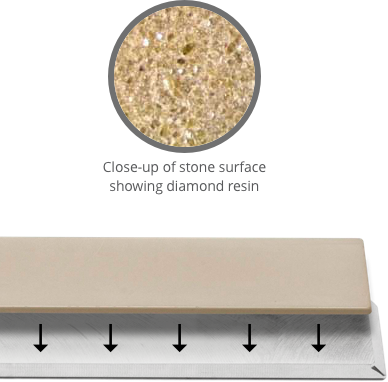 Domestically sourced diamonds are evenly mixed throughout the resin while curing* onto the aluminum blank.

This reduces variation in thickness and provides the most consistent shape and performance during sharpening.
* While we do all we can to reduce voids in the stone we cannot guarantee all Edge Pro knife sharpening stones will be free of them. These voids will not interrupt the sharpening performance.
SHARPENING WITH MATRIX STONES
300, 650, &, 1100 GRIT
These stones don't give very much feedback. Fore best results use very little added pressure when sharpening
2300 & 4000 GRIT
Don't add any pressure when sharpening, just use the weight of the stone and stone arm. Diamond is much sharper than other abrasives so it does not need as much pressure to cut. Only use edge trailing strokes, this improves the quality of polish as well as keenness of the edge.
KEEPING MATRIX STONES IN OPTIMAL CONDITION
Dressing Matrix diamond knife sharpeners is very important for maximum performance. The coarser stones should only need to be dressed to flatten them when they become dished. The finer stones should be dressed more often to keep the diamond exposed and as a deep cleaning. To dress them use the stone leveling kit with 240 grit aluminum oxide and while keeping the stone horizontal slide the stone around the glass in a circular fashion. In between dressings use a paper towel and rubbing alcohol to clean them.